Many of you will have been following my progress on building a pochette or travel fiddle on my other blog
After a total of about ten days work spread over about six weeks I now have a pochette! They said it takes ages to learn how to make a violin – they were right – I must've studied violin making for at least three hours, reading the whole book from cover to cover (ok looked at the pictures…).
Bit of work on the bandsaw, the drill press and the angle grinder and there it was…
And quite suddenly the instrument was finished.
As I tightened the strings I could hear that at least some of my wild guesses were right, and I was rewarded with a warm sound almost as loud as a normal violin. In fact it is as loud as my Maggini copy. That was my first surprise. The second was that with the first tuning up the wood moved to accommodate the strain and the strings quickly went out of tune. But after a couple of hours it stabilised and I was rewarded with quite a reasonable sound at good volume. Not too bad for a first attempt!
Here is the instrument that inspired mine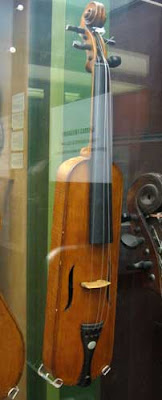 And finally – what does it sound like? I'll let you be the judge!
Cheers
Jerry