Even a 50kg weakling can lift 500kg with this device – a new fitness craze? No, more a 14th Century crane for lifting building materials up the wall of a cathedral or castle.
In Prague, a team of fifteen have come together and built a replica 14th century tread-mill crane using traditional techniques and tools. And they are using it to reconstruct a real castle – Tocnik Castle.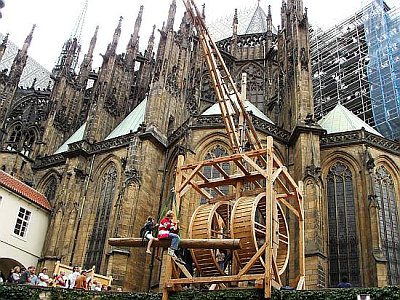 Photo: Martin Dostoupil, www.estav.cz
While it looks cumbersome the whole thing can be dismantled and rebuilt – like a Lego construction – and in this way it can be moved from one location to another around the building site. This one is actually a double treadmill version capable of lifting one tonne of material at a time. That's pretty impressive for a wooden structure.
You can read the whole story or listen to the radio broadcast at the link above.
Cheers
Jerry