Yes, it's been the bane of my Hardanger fiddle (hardingfele) – the lack of fine tuners for the sympathetic strings. Today all that is changed! When I made the new bridge and reshaped the nut I did try hooking a one-quarter size tailpiece over the main tail-piece to get eight fine tuners – string adjusters – but that placed the adjusters right up against the bridge – even with the tail-gut shortened.
After some measurement, I figured that if I could push the under-tail-piece back by 1.5cm I could position the bridge in the correct place, and not have the string cotton windings sitting on the bridge.
The answer lay in a 3/16″ bolt. I lined up the two tail-pieces in the vice and drilled through them both to achieve the right overhang. I then threaded a bolt up through the quarter size tail-piece, then placed a nut between the two tail-pieces to provide clearance for the upper fine-tuners to work, and then finished the top with a washer and nut.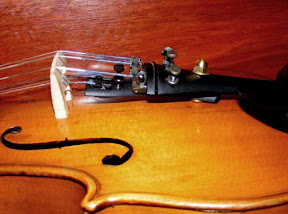 After re-assembly I can now state that the double-decker tail-pieces still clear the violin's belly by a good margin and now allow for fine tuners on all eight strings!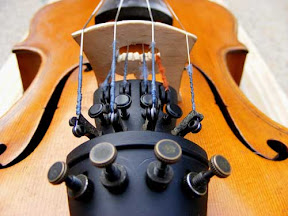 If you have fitted fine tuners to a hardanger fiddle – please let me know and perhaps share a photo
Cheers
Jerry
hardanger fiddle
hardingfele
music
violin